Exclusive!! Ibiza, Riviera's & Tuscany! Fly/Stay/Cruise!

From Sydney To Europe - 11 Nights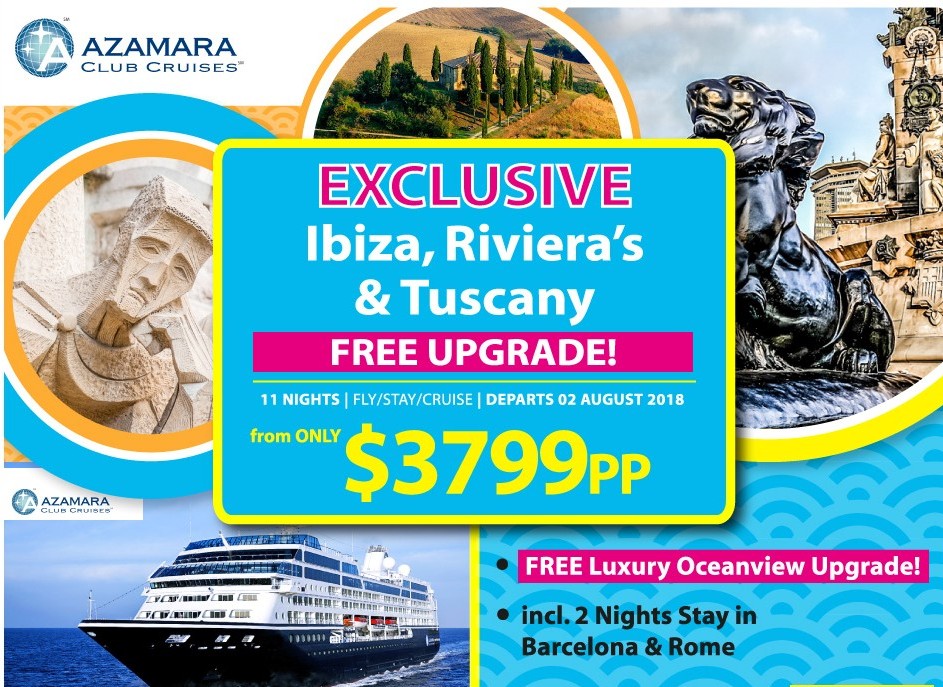 Departing from:

Sydney

Destination:

Europe

Duration:

11 Nights

Offer:

**FREE OCEANVIEW UPGRADE**

Travel Dates:

02/08/2018 to 14/08/2018
From
AUD$3,799
Price per person
Package Details
Overview
There's no place on earth we would rather be in mid-late Summer than in the Mediterranean.
Long, warm, sunny days spent sampling the local cuisine and sipping Rose amongst some of the most beautiful surroundings - and some of the most beautiful people - on the planet, before retiring to the comfortable surroundings of a boutique hotel. Does life get any better?

It does when your boutique hotel floats! Introducing Azamara Quest; a mid-sized beauty with a large number of verandah staterooms; because there's nothing better than opening your door to the fresh sea air, warm sun, and exquisite views of the Mediterranean. It's an immersive experience; just like the fully 360° video below. Enjoy!
Details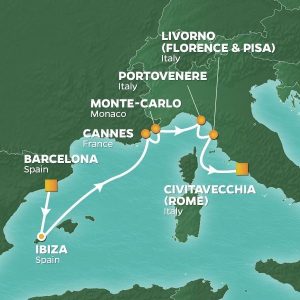 Our featured package this week will see you jetting into Barcelona,where you'll enjoy a two night stay before boarding Quest for a seven night Mediterranean cruise.
Sailing from Barcelona, Spain, the ship stays overnight at Ibiza, an island of rustic beauty, turquoise waters, white sand beaches and DJs in clubs spinning electronica mixes. Nightlife is Ibiza and it's unlike any other. But first, a day on the powdery white sands of Salinas Beach and dinner in an elegant restaurant tucked in the sand dunes overlooking the harbour and its yachts. If you're up early enough for breakfast, the traditional flaó cake will not disappoint.
Late stays follow at the famous and beautiful seaside resorts of Cannes and Monte-Carlo. And enjoy a late stay in Porto Venere on the Italian Riviera, which is a bit quieter, but just as spectacular as the Côte d'Azur. Here, swim around jagged cliffs in the turquoise waters of the Liguria Sea, where Lord Byron used to swim.
It's no wonder he was a poet. You can visit his grotto, the menacing Doria Castle or the Church of St. Peter. Or just wander along the harbour promenade.
The second-to-last stop is Florence. Eat pappardelle, drink any one of the excellent Tuscan reds and explore the Renaissance, there at every turn. A finale in Rome brings this diverse cruise itinerary to a close, where fine art, historic architecture, and al fresco dining are waiting behind every turn. And you know what they say about when in Rome…
We'll give you the chance to find out. You'll enjoy a further two night stay in Rome before catching your flight back home to Australia.
Travel Enquiry